The Sperry - Weatherhead Lab
Faculty / Principal Investigators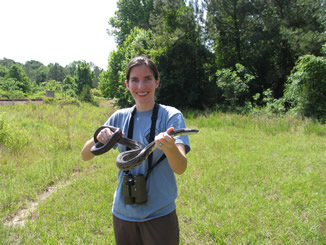 Jinelle Sperry
Adjunct Assistant Professor
US Army ERDC-CERL
P.O. Box 9005
Champaign, IL 61826
Phone: 217.373.4543  jinelle.sperry@usace.army.mil
Education:
2008 Ph.D.University of Illinois; Champaign, IL
2004 M.S. Humboldt State University; Arcata, CA
1999 B.S. University of Montana; Missoula, MT
Research Interests: My research has addressed a wide array of topics clustered around the core theme of community ecology and the effects of human-caused and natural disturbances on multi-species interactions.  Most of my recent work has focused on the ecological factors that influence predator-prey interactions between snakes and birds.
Patrick J. Weatherhead
Professor of Behavioral Ecology
University of Illinois
606 E. Healey Ave.
Champaign, IL 61820
pweather@illinois.edu
(217) 244-0319
Education:
1978 PhD. Queens University; Kingston, ON
1976 MS. Queens University; Kingston, ON
1974 BS. Carleton University, Ottawa, ON
Research Interests: My research addresses a variety of questions about the behavior and ecology of animals. Most often those animals are snakes and birds, although I have been involved in some projects on other taxa. Conceptually, some of my research is specific to one of the taxonomic groups I study (e.g., thermal ecology of snakes) whereas I have investigated other topics in more than one group (e.g., sexual selection in birds and snakes; parental care in birds and fish). Also, some research involves interactions among taxa (e.g., snake predation on birds' nests).
Postdocs
Than Boves
S. 506 Turner Hall
1102 S. Goodwin Ave
Urbana, IL 61801
Email: tboves@hotmail.com
https://sites.google.com/site/tboves/
Education:
PhD. 2011. University of Tennessee; Knoxville, TN
MS. 2007. Boise State; Boise, ID
BS. 1998. University of Illinois; Champaign-Urbana, IL
Research Interests: I am interested in finding ways for humans to use natural resources in a sustainable manner so that we can produce energy, harvest timber, hunt, fish, grow food, develop land, and extract minerals in ways that will not result in the extermination of any bird species (or any other species for that matter). Through experimental and observational research and the use of predictive models, I look to develop sustainable methods for obtaining the resources which we require. I have recently been involved in a collaborative, multi-agency project assessing the potential of partial timber harvesting to improve habitat for the severely declining Cerulean Warbler (Setophaga cerulea), a breeding resident of mature deciduous forest canopies in the eastern United States.
PhD Students
Brett DeGregorio
W 519 Turner Hall
1102 S. Goodwin Ave
Urbana, IL 61801
Brett's Webpage
Education:
MS. 2008. Indiana – Purdue University; Fort Wayne, IN
BS. 2005. University of Massachusetts; Amherst, MA
Research Interests: How the thermal ecology of snakes and turtles influences their activity patterns, habitat selection, and interspecific interactions with a focus on conservation.
Masters Students
Erika Dittmar
Education:
BS. 2008. Ferris State University; Big Rapids, MI
Research Interests: I am interested in avian ecology, especially topics centering around migratory songbirds. I joined the Sperry - Weatherhead lab in the summer of 2012. My research project involves studying the movement and habitat use of Black-capped Vireos during the postbreeding season with a focus on habitat management.
Field Technicians
Andrew Cronin
I attended Connecticut College, where I received a degree in biology with a minor in East Asian studies, focusing on chinese.  I am interested in many facets of biology and ecology, including avian ecology, herpetology, and behavioral ecology.  I have previously conducted research on lizard populations in Zanzibar, northern water snake basking behavior, jellyfish population densities, and thermoregulatory accuracy in the Yarrow's spiny lizard.
Sara Wendt
I recently graduated from the University of Wisconsin- Stevens Point with a degree in Wildlife Ecology- Management and Research.  I plan to attend graduate school for research on mesocarnivores or herpetofauna in the future, however, I currently intend to gain experience in a variety of wildlife areas.  Previously, I have worked on numerous small mammal projects, worked as a songbird nest searcher, worked in the UWSP vertebrate collection, and as a wildlife rehabilitation intern.  Many of the jobs I held included research projects, which I was able to complete and present at various symposia.  I have involved myself in many extracurricular organizations and related hobbies for experience and to have fun with wildlife!  I love technician work and am very excited to complement my research experience this summer.
Clay Noss
Clay graduated from the University of Florida with a degree in Wildlife Ecology in 2012. His research interests are very broad but generally concern herpetology and community ecology. Clay has worked on projects exploring oak toad (Anaxyrus quercicus) fire ecology, bird pepper (Capsicum annuum) seed predation and red-eyed tree frog (Agalychnis callidryas) community ecology, among others.
Undergraduate Students
Alex Fillak
I'm currently an undergraduate student at the University of Illinois Urbana-Champaign, in the department of Integrative Biology, and plan on pursuing Veterinary Medicine after graduating. I am currently involved in research that is investigating the link between the effectiveness of chytrid fungal infections in American toads and temperature. My independent research will investigate how several behavioral syndromes may be connected to the hormone corticosterone in American toads.
Kelsey Low
Currently I am an undergraduate at the University of Illinois, studying Integrative Biology.  In the future I hope to either go into research in Animal Biology, Animal Behavior, or Veterinary Medicine.  I joined the Sperry-Weatherhead lab in the summer of 2012 to help with research on the association between temperature and the effects of chytrid on American toads.