The Sperry - Weatherhead Lab
Faculty / Principal Investigators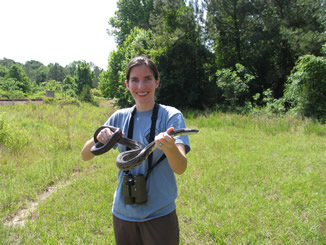 Jinelle Sperry
Adjunct Assistant Professor
US Army ERDC-CERL
P.O. Box 9005
Champaign, IL 61826
Phone: 217.373.4543  jinelle.sperry@usace.army.mil
Education:
2008 Ph.D.University of Illinois; Champaign, IL
2004 M.S. Humboldt State University; Arcata, CA
1999 B.S. University of Montana; Missoula, MT
Research Interests: My research has addressed a wide array of topics clustered around the core theme of community ecology and the effects of human-caused and natural disturbances on multi-species interactions.  Most of my recent work has focused on the ecological factors that influence predator-prey interactions between snakes and birds.
Patrick J. Weatherhead
Professor of Behavioral Ecology
University of Illinois
606 E. Healey Ave.
Champaign, IL 61820
pweather@illinois.edu
(217) 244-0319
Education:
1978 PhD. Queens University; Kingston, ON
1976 MS. Queens University; Kingston, ON
1974 BS. Carleton University, Ottawa, ON
Research Interests: My research addresses a variety of questions about the behavior and ecology of animals. Most often those animals are snakes and birds, although I have been involved in some projects on other taxa. Conceptually, some of my research is specific to one of the taxonomic groups I study (e.g., thermal ecology of snakes) whereas I have investigated other topics in more than one group (e.g., sexual selection in birds and snakes; parental care in birds and fish). Also, some research involves interactions among taxa (e.g., snake predation on birds' nests).
Students
Brett DeGregorio
W 519 Turner Hall
1102 S. Goodwin Ave
Urbana, IL 61801
Brett's Webpage
Education:
MS. 2008. Indiana – Purdue University; Fort Wayne, IN
BS. 2005. University of Massachusetts; Amherst, MA
Research Interests: I'm interested in snakes as predators. More specifically I want to know how snakes find their prey, what factors bring snakes and their prey into contact, and the influence of temperature in predator-prey interactions. As a reptile lover, I am also very interested in reptile conservation and on how we can better understand reptile ecology to facilitate more effective conservation strategies.
Erika Dittmar
Education:
BS. 2008. Ferris State University; Big Rapids, MI
Research Interests: I am interested in avian ecology, especially topics centering around migratory songbirds. I joined the Sperry - Weatherhead lab in the summer of 2012. My research project involves studying the movement and habitat use of Black-capped Vireos during the postbreeding season with a focus on habitat management.
Daniel Kovar
Education:
BS. 2008. Ohio University; Athens, OH
Research Interests: My primary interest is in avian ecology, although I am also interested in connections with other topics. I joined the Sperry-Weatherhead lab during the summer of 2013. I am currently conducting a study comparing the habitat use and nest survival of the endangered Black-capped Vireo to the similar and closely related, but common, White-eyed Vireo.
Clare Rankhorn
I am a senior at the University of Illinois in the Integrative Biology program. I am interested in almost anything that involves animals and the environment. I joined the lab in the summer of 2013 to work on a research project entitled "Predation of birds' nests by Texas Ratsnakes and implications of Climate Change". Now I am helping out on various projects including review of nest predation video and data management. In the future, I hope to go to graduate school for something related to ecology or wildlife biology.
Former Lab Members
Than Boves

https://sites.google.com/site/tboves/
Education:
PhD. 2011. University of Tennessee; Knoxville, TN
MS. 2007. Boise State; Boise, ID
BS. 1998. University of Illinois; Champaign-Urbana, IL
Than was a post doc in the Sperry-Weatherhead lab from January 2012 to August 2013. While here he was involved in a number of projects but his primary focus was exploring strategies available to Black-capped Vireos to avoid nest parasitism by Brown-headed Cowbirds. Than left us to become an assistant professor at Arkansas State University in Jonesboro, Arkansas.